Note: This article may sound like an advertisement, but it isn't. I'm simply a fan of the Cartoon Network show Teen Titans Go!
I worked from home before my kids were born. It was easy for me to watch television with my kids. When we discovered Teen Titans Go!, it was simple self-preservation for me. I was desperate for a new show. I had enough of watching the "Fat Controller" berate Thomas the Tank Engine and his friends for not doing their job while ignoring the employees who are on the train.
While we've tried a variety of other shows, one of the first ones that stuck was Teen Titans Go!
For those who don't know, the Teen Titans Go! characters they are five teenage superheroes. However, instead of saving the day, they usually do something silly. For example, they find out what the Tooth Fairy is really doing with all our teeth. (Spoiler: He eats them!)
Each of the episodes below, I've watched at least three times. Some of them are probably in the double digits by now. Kids love reruns, right?
There are over 300 episodes of Teen Titans Go! The episodes cover a lot of mundane adult topics. For example, the episode tonight is about trademark law. There's an episode tomorrow about health insurance. Clearly, these are the kinds of topics that weigh deeply on your 9-year-old's mind. Don't worry, kids love it because it is so silly. You'll love it as you nod and say, "It's so true!"
At least one of the writers is a big fan of personal finance. The Teen Titans have about a dozen episodes that center on personal finance topics. Let's dig in and see what money lessons we can learn from them.
Top Personal Finance Lessons from the Teen Titans
Money is Whatever Currency We Choose
In the episode Two Bumble Bees and a Wasp, Robin (of Batman fame) tries to teach the rest of the gang about money:
"Money is not to be wasted on things that bring you happiness and joy! Money is to be hoarded until you have enough money that your money makes more money."
I'm not sure too many children are going to pick up on that last point, but it certainly caught my attention.
Turning to a cartoon representation of money we get this lesson:
"I am paper, but I am also money. All I am is an agreed-upon representative of credit. Something you trade for goods and services! So I can be anything.
They go on to ask whether money can be a pineapple. (Actually, pineapples have historically been used as money.)
After Beast Boy insists that money is evil and rips up a dollar bill, Robin decides not to pay anyone until they respect money.
Flash forward to a day later and Beast Boy has a pizza. Robin would like a slice and offers to buy one with a dollar. He soon learns that the rest of the team has agreed that the new currency is bees.
Yes, bees. I told you it was a silly show.
It's a good episode to build a foundation about how money works. It's also useful to start a conversation about cryptocurrency.
It ends with this hilarious song and dance:
If you are interested, there's a complete script of Two Bumble Bees and a Wasp here
Focus on Health and Wealth
In the episode, Think About Your Future, Robin announces that he's buying all the Teen Titans expensive jackets.
Raven has an epiphany:
Raven: Aren't you guys worried about wasting money?… So we have some later?
Starfire: But the later is not until the later. Currently, it is the now.
Raven: I know, but aren't we going to get old one day?
Beast Boy: Yeah, but later.
Cyborg: And it's the "now" right now.
Raven: Oh, okay, that makes sense.
So they buy the jackets. And then they celebrate with pizza, but not just any pizza it's "extra-large, extra-extra cheese extra-extra-extra pepperoni, plus "large jugs of the soda" and "a gallon of ranch dip."
Raven once again warns that perhaps they should eat healthier to avoid health problems later. Again, the rest of the gang doesn't care about "later."
The scene ends and we jump ahead to 70 years later.
The gang is old with many health problems. They can't afford their medications because they don't have any money.
They suddenly realize that Raven was right. So they do what anyone would do. They build a time machine and send their old selves back to talk to their teen selves into making more sensible choices.
That brings us to this clip about learning how to eat healthy, starting a 401k plan, and an explanation of compound interest.
Everything goes perfectly… too perfectly. The rest of the episode isn't educational, but it is entertaining.
Again, if you are interested in the script, you can find it here
Building Wealth with Rental Properties
No cartoon is dumb enough to create an episode around a boring topic such as building equity from rental properties. No cartoon except for Teen Titans Go!
With episode after episode about silliness, the writers created, Finally a Lesson.
The best part of the episode is Robin explaining rental property and how to build equity:
If you can't watch it, here's Robin's explanation:
"Equity is the amount of a property you truly own. It's the difference between your loan balance and your property's market value. If you sold your property and paid off the bank, the value of your equity is what you'd walk away with. When you build equity, you increase the net value of your asset. One way to do this is by paying off your mortgage."
The episode takes them through all the steps. First, they find the right property – a run-down apartment building. Then they get to the financing, which involves getting 20% for a down payment. They do it the way that "everyone else does" ask someone else for that 20%.
Then we get to the other fun parts of securing a rental property… the loan process. There's an explanation of credit scores, securing the right lender, filling out the paperwork, and getting a good faith estimate.
The gang is starting to get very bored, but Robin assures them they'll be very satisfied in the end. For now, they have to turn their attention toward fixing all the problems with the building.
There's a fun twist, but finally, Robin gets us to the satisfying end, "It takes decades to actually build equity, but in 30 years, it will provide a modest cash flow to pay for our numerous old people medications."
For a cartoon geared towards kids, it's as good of an overview that you'll get. As my kids have gotten older and started to ask why we have rental properties, I just cue up the episode on the DVR (or Hulu) and ask if they have any specific questions.
You guessed it, the script is available here.
Avoiding College Debt #1
In the episode Who's Laughing Now Beast Boy gets underarm hair, signaling that he is becoming a man. That means finding his spirit animal, which is "like college for dudes who turn into animals."
With that, we are off on a Teen Titans Go! tangent questioning the value of college.
Raven: Uh, isn't higher education usually really expensive?
Robin: Yes, but if he chooses the right spirit animal it will open a lot of doors for him.
Beast Boy: That's right, Robin, my man. And then me and my hairy pits will be on easy street.
Cyborg: Whoa, whoa, whoa. While spirit animals are great, they aren't necessarily for everyone. I'd hate to see you saddled with so much debt and in this economy, whoo! Personally, I think spirit animals have just become big business. Focus more on sports and partying, than education. Now with the money you'd spent on a spirit animal have you instead considered investing in, say, a rental property? Or what about looking into a training school?
Beast Boy: Whoa, check out those bears. Nice. That's what I want my spirit animal to be!
Cyborg: But the cost of being a bear is astronomical. Maybe you should find a two-year community spirit animal, like that old donkey. Then transfer to the bears. In the end, you get the same spirit animal.
Beast Boy gets accepted by the bears and talks to his friends.
Robin: But how are you going to pay for this? I got some government loan of salmon and honey.
Raven: Whoa, that's a lot of salmon and honey. It will take forever to pay that back.
Beast Boy: Once I'm a bear, I'll be rich.
Cyborg: While data shows having a good spirit animal leads to a better paying job, there's no guarantee those spirit animals are going to give you the experience you need to make it in the real world.
When things don't go well with the bears, Beast Boy realizes that he made a mistake.
Beast Boy: I think you're right, Cyborg. I should have bought a rental property.
Cyborg: Booyah. Told ya.
Raven: Well, consider it a lesson learned.
The last line is a reference to the rental property episode, Finally a Lesson that I covered above.
The episode goes off on a silly tangent, like all the episodes, before circling around to one last wise thought.
Cyborg gives a last shaming to the bears after defeating them:
That's what you get for convincing people to spend thousands of dollars just to learn things they could figure out for free. Leave them with an amount of debt and a useless piece of paper that reads, "Diploma." They're pedaling a dream that doesn't exist anymore.
The script for this one can be found here
Avoiding College Debt #2
In the episode Teen Titans Vroom, we get another lesson about college debt and career choice. This time it comes from villain Dr. Military. Dr. Military isn't really a bad guy though, he's a victim of the student loan system. Let's start with this witty banter about his career choice:
Dr. Military: Actually, I'm a… veterinarian.

Titan: Everyone knows that's not a real doctor.

Dr. Military: That may be the perception, but it took me ten years to earn my veterinarian degree. And statistically, it's more difficult to get into veterinarian school than med school, which means I had to work twice as hard for half the respect and money of a so-called "real doctor."

Titan: Sounds like you should've been a people doctor, bro.

Dr. Military: Enough. If I wanted to listen to someone criticize my career choice, I would have called my parents.
Now let's get to the root of Dr. Military's evil doings:
Titan: Please, give up the evil scheme, Dr. Military. You do not have to do this.

Dr. Military: Actually, I do. I need the ransom money to pay off my massive school loan. The high cost of veterinary school combined with my low salary as an animal doctor has put me in quite the financial bind. My evil plan is the only way out of this crushing debt.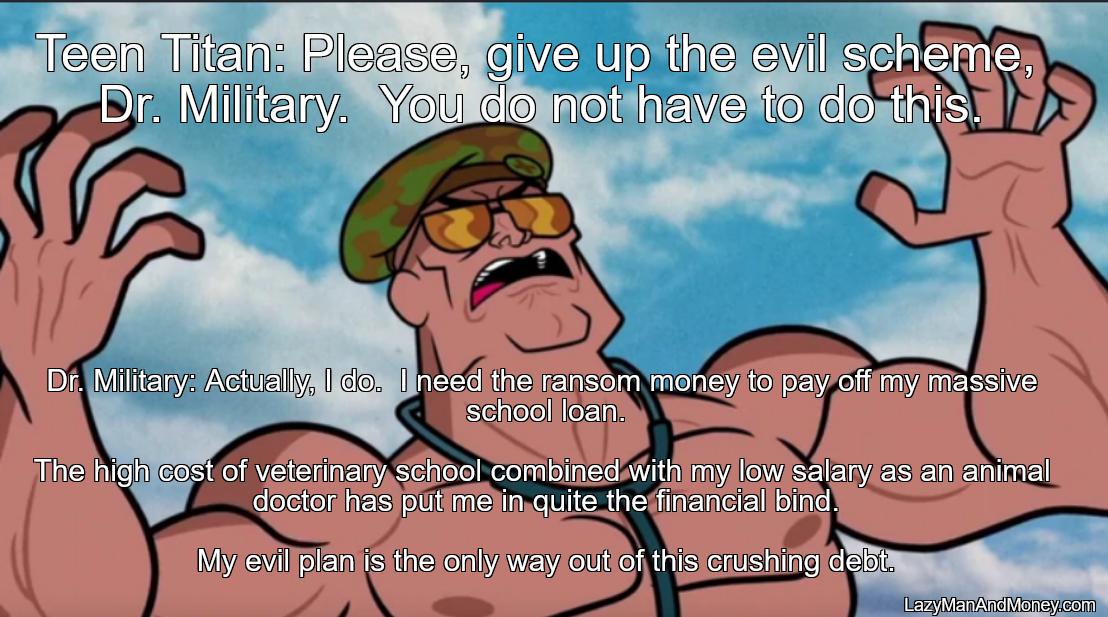 My 8 and 9-year-old boys don't know much about college yet, but this will be something we can revisit as they get older.
How Taxes and the IRS Work
In Fat Cats (Season 7, Episode 22), the Titans win a big cash prize, but then learn that they have to pay taxes on it. This allows the writers to explore what a tax-free world looks like. It isn't pretty:
It's a great introduction to kids about why we have taxes.
Pyramid Schemes Will Make You Broke
I almost didn't include this episode, but my wife mentioned that I should. I know quite a bit about MLM/Pyramid schemes and I didn't feel this episode addressed the topic very well. However, many adults can't understand pyramid schemes, so I can't expect the Teen Titans to teach kids this complex topic well. As usual, my wife is correct and it's just my own extensive writing that artificially raised expectations.
The Teen Titans Go actually have a very good description of a pyramid scheme in this 2 minute clip:
The key money quotes almost always come from Robin and this is no different:
Robin: This is a pyramid scheme!… Not that kind of pyramid! A pyramid scheme is an unsustainable business model, that promises payments to participants, based on the amount of additional people they enroll in the business, instead of focusing on the sale of goods or services to the public… As you can see here, the exponential growth of the "business", will eventually cause the entire operation to collapse, leaving the participants at the bottom of the pyramid bankrupt, while those at the top walk away rich…

Starfire: I do have the question. Did the mummies build the pyramids?

Robin: There are no mummies! It's not a literal pyramid!
Almost everyone in MLM doesn't understand this concept and still go meetings to learn how to show the plan or enroll people in the business. In fact, the people who make the most money in every MLM are the people who have the largest downlines of enrolled people, not sales of goods or services to the public.
Beast Boy joins and makes Pyramid Scheme money which leads to this awesome song:
Of course, the rest of the gang (sans Robin) want all the money, so Beast Boy enrolls them as "money deputies" with himself as a "money sheriff." Robin warns them, "You are participating in a fraudulent business" and "This pyramid scheme is going to leave you broke, Titans."
Everything spins out of control and gets mixed in with mummies wanting their money back and the Teen Titans not being able to deliver. They get out of it with some silly stuff that doesn't make sense, but by this point, they've addressed the topic fairly well.
Once again, you can find a transcript of the episode here
Final Thoughts
I really don't know how much financial information my kids are absorbing from this, but I know that they remember nearly everything they see.
I've watched my share of cartoons and I can't think of any other general cartoon that covers half of the financial topics in Teen Titans Go! There are still a lot of episodes that I haven't seen, so I might have missed a few money lessons.
If Teen Titans Go! isn't your thing, maybe you should try a different money television show.
Where are the surprising places you've found money lessons? Let me know in the comments.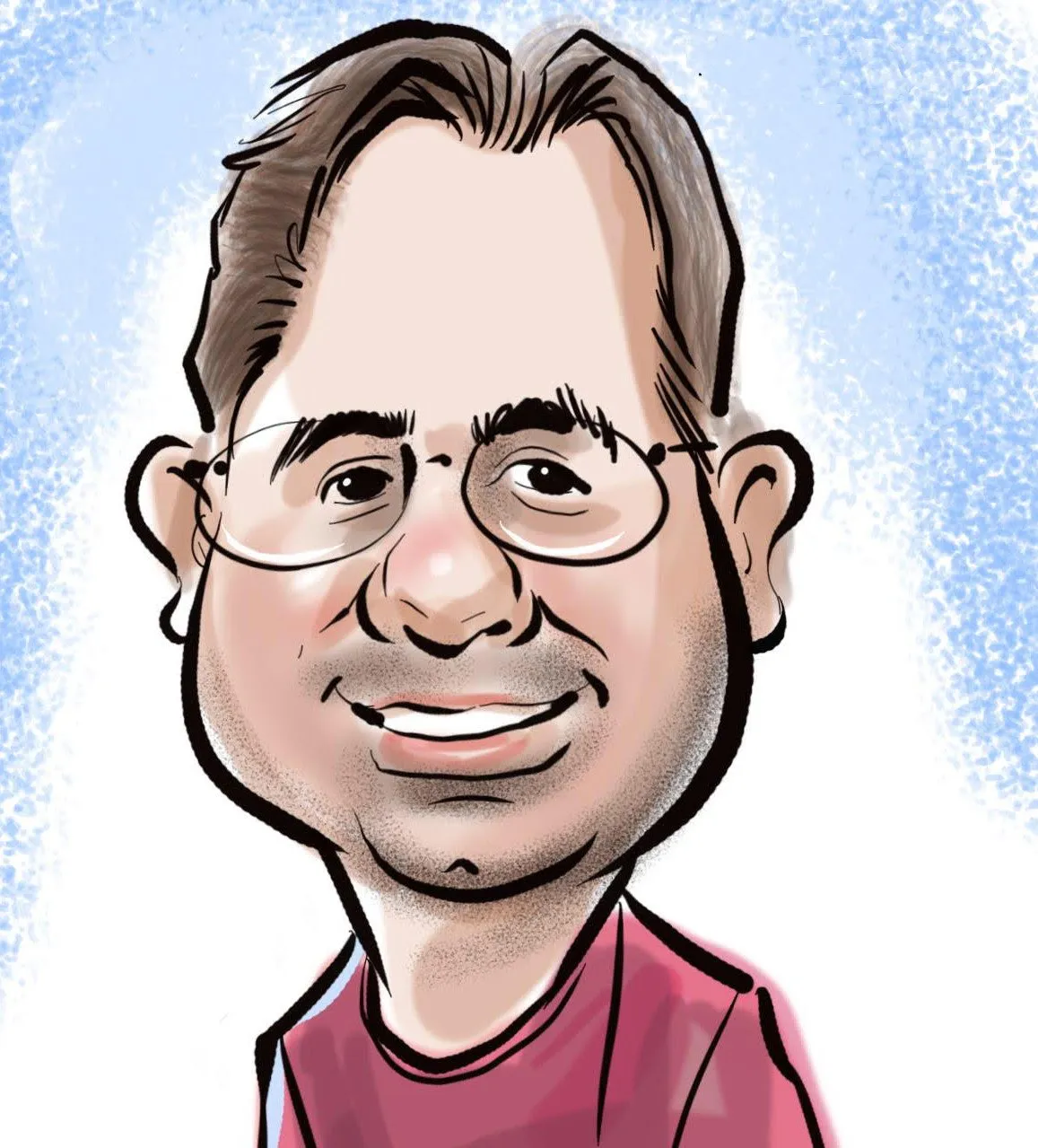 Brian MacFarland has reached more than 10 million people on his personal finance journey to financial independence.  He's been featured in the Washington Post, U.S. News and World Report, and Lifehacker.
Read more on the About page.
If you enjoyed this article please Support Kid Wealth