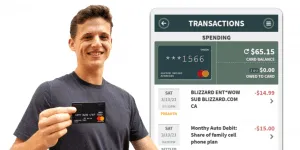 FamZoo is a company/app that makes managing money for kids easy. I've heard about them for years at various financial conferences. I didn't have kids, so I didn't pay attention. I only thought that it had a funny name. FamZoo got a lot more interesting once my kids were old enough to learn how to manage their money.
When I started Kid Wealth earlier this year, I had planned to write about specific companies and apps. FamZoo was high on my list. I went to a personal finance conference, and the CEO of FamZoo, Bill Dwight, was at a booth promoting FamZoo. He gave me the complete backstory of the company. Here's the short version. Dwight was a very successful Silicon Valley engineer who decided to start something new and different. He combined his passion for software engineering and children's personal finance. The result was FamZoo.
What is FamZoo?
FamZoo is a completely family money management system. You can think of FamZoo as a combination of a bank and a prepaid debit card. It consists of a parent account and one or more child accounts. Each child account can be further subdivided into spending, saving, and charity. It makes giving allowances easy. I can also give kids money for doing odd jobs or extra chores.
Children can spend money using their FamZoo card. It's better than a traditional bank because they don't feel the money is locked up and inaccessible. It's an excellent way to let kids make money mistakes.
There is no credit feature or way for kids to rack up overdraft fees. The accounts are FDIC-insured.
Why FamZoo?
The Power of Compound Interest
I'm a big believer in teaching kids about compound interest. Unfortunately, banks aren't paying interest rates that kids will notice. That's why we should steal an idea from Bank of Dad.
The Bank of Dad idea is that parents can pay better interest than banks. FamZoo is perfect for parent-paid interest. Parents can set up accounts that earn significant interest (paid by the parent, of course). I could give my child 2% interest a week if I wanted to. It may not sound like much, but it is 280% a year. I recommend that you read my Bank of Dad article for an idea of what may be appropriate.
My kids only earn interest in their savings accounts. They have a strong incentive to put money there instead of spending. However, when they want to make a purchase, the money has to be in their spending account. Parents need to approve transfers, but I don't see myself rejecting too many of them.
We've only been using FamZoo a short time, but I think I'll set it up so that the charity account will earn double interest.
Automating Your Child's Allowance
I tried managing my kids' allowance with cash. It was a miserable failure. I never had the exact number of one-dollar bills on hand. Many times, I simply forgot. My kids reminded me sometimes, but they often forgot as well.
Now, I set up a rule in the application, and the kids get money pushed from my parent account to their accounts.
There are good arguments to be made that kids should start with cash. However, the world has moved to digital payments and apps. They'll eventually have to be comfortable with managing their money this way. It doesn't hurt to start early.
Using the FamZoo Prepaid Card
When the kids want to purchase something, they simply bring their FamZoo debit card to the store. Most likely, they've watched adults swipe a credit card. They probably already know how it works. Kids can check their balances by using the FamZoo mobile app. It's available for iOS on the Apple App Store and Android on Google Play.
Since my kids are only 8 and 10, they don't have a mobile plan, but they have tablets and wifi-only phones. As they become teens, they'll be able to manage their FamZoo accounts at a store.
One nice touch is that the FamZoo has the kids' own name on them. Kids under thirteen also have the parent name on them.
Getting Started with FamZoo
It takes some time to get started with FamZoo. For me, it took three weeks. It can take two weeks to get the debit cards. After that, it took another few days to set up the external transfer from my bank (USAA). The banks must do their transfer stuff, which takes a few days.
While it's a bit inconvenient, there are very good reasons why it takes so long. FamZoo purposely doesn't allow itself to pull money from your bank accounts. Instead, you push money from your bank account to FamZoo. This is great for peace of mind. No one wants to worry that a company is going to drain their bank account by pulling too much money out.
How much does FamZoo cost?
I've always been against paying bank fees. I've always felt that if I'm giving the bank money to lend out at high rates, the bank shouldn't charge me money too. However, FamZoo is an exception. It makes my life so much easier that I don't mind paying a subscription fee.
If you pay month-to-month FamZoo costs $5.99. It may not seem like a lot, but it can be a large percentage of a child's allowance. I opted for the two-year pay-in-advance plan, which is $59.99. That comes out to $2.50 a month. It also covers our whole family.
One competitor, Greenlight, has a Greenlight Core plan similar to the FamZoo program. That plan has a $4.99 monthly fee, but it doesn't seem to have a bulk purchase plan to lower costs. Over the two-year plan, I'll save 50% with FamZoo.
FamZoo Competitors
FamZoo isn't alone in the kid debit card space. I mentioned Greenlight above. There are also a couple more: GoHenry and BusyKid. I'm looking into exploring these options more. Stay tuned for reviews on them.
FamZoo Negatives
I found two things with FamZoo that were below my expectations. One was the time to get started. There's an option to put more money in to start, but I didn't take it. If I did, I think I would have been able to get started faster.
The second negative is that the company was founded in 2006, and it seems like much of the design is still from around that time. I'm more interested in functionality than design, but others may feel differently.
FamZoo Final Thoughts
We've been thrilled with FamZoo. It's made handling allowances and compound interest so much easier for me. The kids love that it's made their money more accessible than a stodgy bank account.
If you want a free bonus month, sign up with this special link.